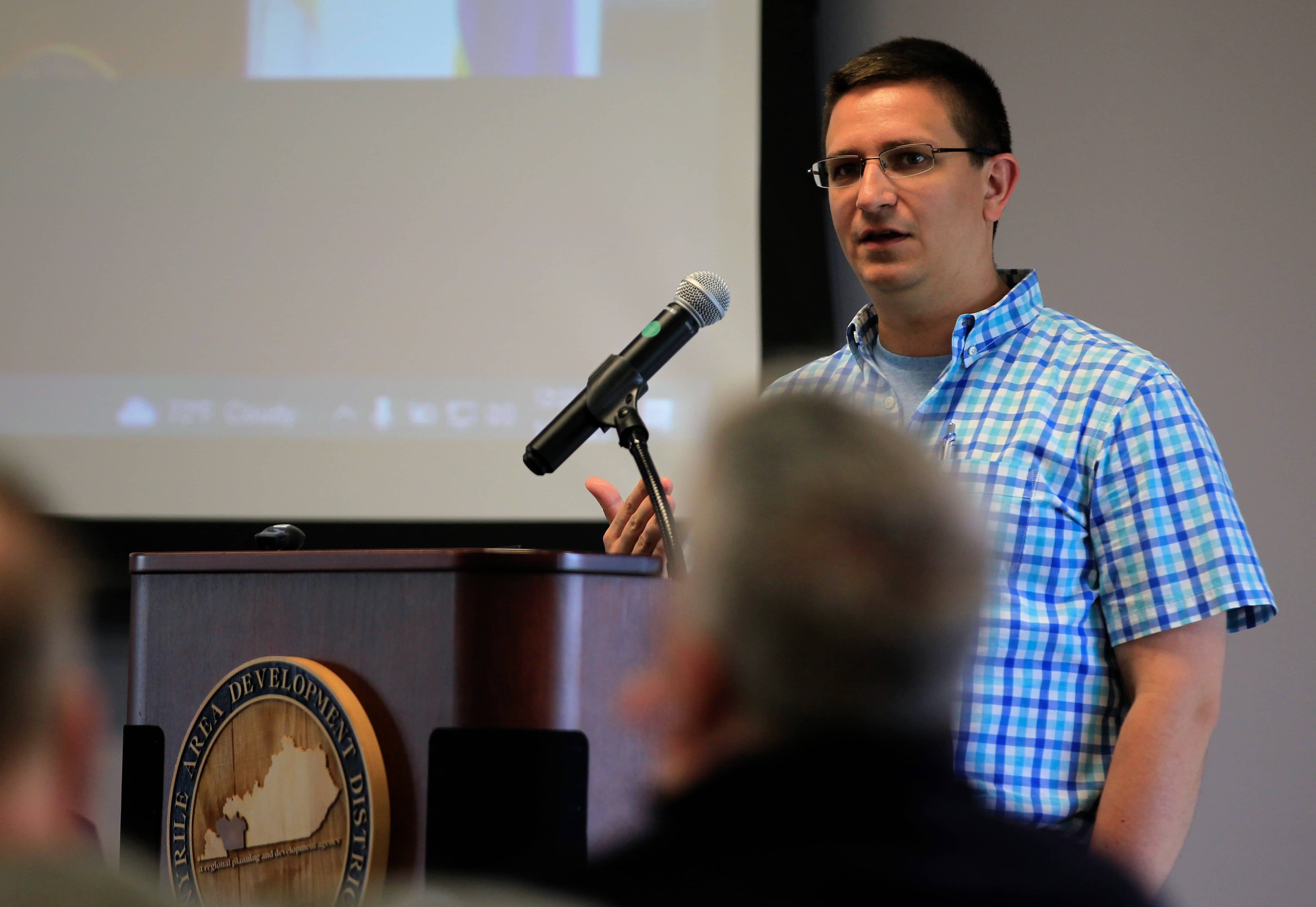 Eddyville Riverport & Industrial Development Authority Treasurer Glen Kinder IV spoke to the Pennyrile Area Development District Monday afternoon — detailing the growth of waterways and the future of river travel in west Kentucky.
Two locations in Lyon County's Industrial Park just received "pad-ready" certifications, announced by the office of Governor Andy Beshear.
And in layman's terms, this means the community, and the Commonwealth, is ready and willing to accept business expansion at Lake Barkley and the Cumberland River.
Developed and realized by local leaders in the 1970s, Kinder noted Eddyville is the only riverport in the PADD's governing territory, and touted its tenants — up from three to seven in the last few years — can enjoy a couple benefits other waterways can't.
This includes:
— Consistent water levels, which remain within five feet of pool estimates through the Army Corps of Engineers. This is dissimilar to other rivers.
— And there's no need to fight a current because of its bay location, which also means there's no need for continuous dredging near shorelines.
Kinder also noted the port embraces global trade of crops and fertilizers, and typically transports 14-to-15 million bushels of grain per year, despite the fact the port only holds about 70,000 bushels on site before loading up on a barge.
As such, Kinder called the riverport a "trade positive" for the local and U.S. economy, pointing to the fact that those recent "superloads" running up and down I-24 helped bring needed upgrades and advancements to Metalsa in Christian County.
With a staff of three members and a board double in size, Kinder urged that partnerships with the region help make business successful, and it's the tenants who end up bringing employment and barge traffic opportunities to west Kentucky.
One of those strong relationships, Kinder added, is with Michael Taylor of Paducah Barge.
In October 2022, Lake Barkley Partnership for Economic Development Executive Director Amanda Davenport announced Eddyville Riverport had received a $4.9 million federal grant to expand freight cargo and increase capacity.
Kinder confirmed this boost, along with the growth of Barkley Lock, will help develop more than 600 feet of non-contiguous coastline for new tenants and "zero-entry" ramp points into the water.
A singular barge, Kinder said, holds 35 rail cars or 134 truck loads of dried goods — a fact made more prominent because Kentucky's state budget typically allots roughly $500,000.
Kinder argued Illinois at $40 million, Ohio at $10 million and Missouri at $10-to-$20 million is pulling away from the Commonwealth's potential for river economy. However, Paducah and Hickman/Fulton have either already, or are expected to, file for federal grant support directed at technological advancement.