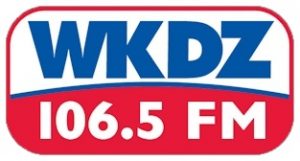 WKDZ-FM serves listeners in Western Kentucky and Tennessee. WKDZ-FM is licensed to Cadiz, Kentucky, and serves the Hopkinsville-Fort Campbell-Barkley/Kentucky Lakes region.
WKDZ-FM plays an awesome combination of traditional country, country classics, new country and remakes.
We are well known nationwide and have won several awards for our local news and extensive weather coverage. WKDZ-FM provides more local news than any other radio or television station in our listening area. In fact, we are the only station in Western Kentucky that broadcasts a full one hour local newscast every weekday at noon and 5pm. Our commitment to news is phenomenal. When news or weather breaks out, we do not hesitate to break in. In fact, you can count on it!
WKDZ-FM is also known for extensive high school, college, and pro sports coverage. We broadcast Trigg County High School football and basketball, University of Kentucky football and basketball, Titans football, and all coaches' shows affiliated with the University of Kentucky and Titans.
WKDZ-FM broadcasts more than 75 local events a year and has won 3 Marconis (the top award given in the radio industry) for Small Market Station of the Year for community involvement.
WKDZ-FM is one of five radio stations locally owned and operated by Ham Broadcasting Co., Inc., Beth A. Mann, President. WHVO Oldies 1480, Oldies 96.5 FM, WKDZ-AM 1110 and Oldies 100.9 FM are sister stations to WKDZ-FM.
For more information, write to us at WKDZ, P. O. Box 1900, Cadiz, Kentucky, 42211. Call us at (270) 522-3232. Fax us (270) 522-1110.
Our studios are located at 19 D.J. Everett Drive, Cadiz, Kentucky, 42211. If traveling via I-24, take exit 65 toward Cadiz. We are at the first stop light off of the exit.