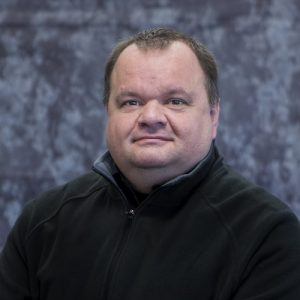 Scott Brown – Noon News Edge / YourSportsEdge Saturday
Monday -- 12:00 PM - 12:59 PM
Tuesday -- 12:00 PM - 12:59 PM
Wednesday -- 12:00 PM - 12:59 PM
Thursday -- 12:00 PM - 12:59 PM
Friday -- 12:00 PM - 12:59 PM
Saturday -- 08:15 AM - 09:00 AM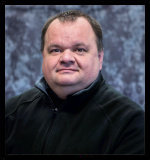 You can hear Scott Brown Saturday mornings around 8:15 a.m. as he hosts "Your Sports Edge Saturday." Scott features an in-depth look at the local sports scene as well as regional, and sometimes even national sporting news. He also is the sports editor for  www.yoursportsedge.com.
I pride myself on being the local argument-settler.
If I don't know the answer, I'm going to do everything I can to find it whether the question relates to sports, politics, or local history.
I've researched complete histories of Trigg County sports histories to include basketball, football, soccer, and track and field in addition to election archival information.
I have been able to share this information and history with the listeners of WKDZ since 1988 in between stints with The Cadiz Record.
My role at WKDZ/WHVO mirrors my life — one of many hats. I broadcast Trigg County High School football and basketball games on WKDZ. I've missed one Wildcat football game in 22 years and haven't missed a home Trigg County football game since 1989. My assignments for WKDZ/WHVO have seen me broadcast from Rupp Arena and Memorial Coliseum for basketball, and Papa John's Cardinal Stadium, Old Cardinal Stadium, and dozens of high schools for football.
I write and produce the daily Sports Edge heard during the news Monday through Friday which is a recap and preview of the local sports scene. I'm guessing you will be hard-pressed to find a radio sportscast that recognizes the number of area athletes that we do on a daily basis.
I am also the Sports Editor for YourSportsEdge.com, an all-sports digital product that launched in August 2017.
I expand the local sports scene each week with YourSportsEdge Saturday on WKDZ — an hour-long show whose main focus is local sports.
I'll also jump in and provide breaking weather coverage when Mother Nature decides to act up, and I have been contributing to the News Edge on WKDZ, WHVO, and WPKY since May 2020.
In 2020, I was a finalist for Best Play by Play by the Kentucky Broadcasters Association. In 2021, I was honored to receive the State Media Representative of the Year by the Kentucky PGA.
Away from radio, I retired in 2017 after 22 years with the Cadiz Police Department and remain actively involved in Trigg County youth sports.
WKDZ has long been the daily information source for Trigg County, and I'm glad to help contribute to that — no matter how trivial that information may be.
You can follow Scott on Twitter at @scottbrownYSE