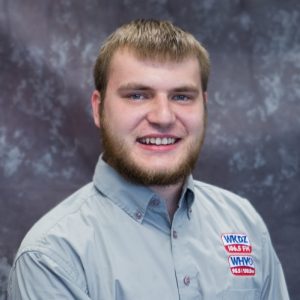 Sunday -- 10:00 AM - 03:00 PM / 05:15 PM - 07:00 PM
Saturday -- 06:00 AM - 08:00 AM / 09:00 AM - 01:00 PM

You can hear Joshua Claussen on Saturdays 6 AM – 1 PM & Sundays 10 AM – 3 PM on 106.5 WKDZ.
I have lived in Trigg County all of my life. I guess I can say I have always wanted to help the community by working in radio, since I was about 5. First I wanted to be a meteorologist after watching WPSD-TV all the time. A few years went by, and I remember always visiting Bill Booth whenever he would take the "Live Afternoon Drive" to Kawaski when it used to be in Cadiz. Ever since then, I have been bitten by the "Radio Bug".
Just a little bit about me…I attended Trigg County High School in Cadiz, KY, and I graduated in 2016.
I LOVE the weather. I help the Your Weather Edge Facebook page.
I love every minute of working with my family at WKDZ/WHVO!