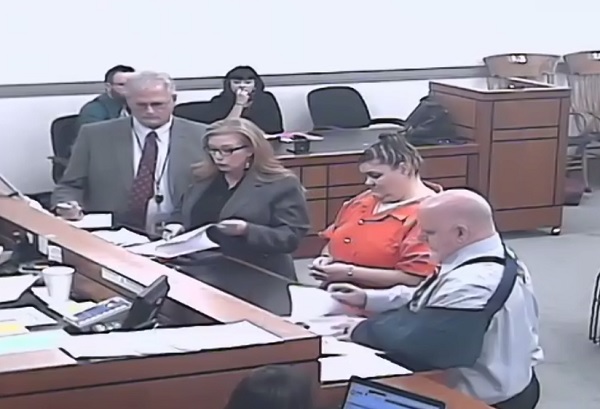 One of the people charged with the murder of a person they were supposed to be caring for will be released from jail and incarcerated at home with an ankle monitor after a bond hearing in Christian Circuit Court Wednesday afternoon. 
Ann Harrison and her boyfriend, Jacob Gilstrap, are both charged with murder, first-degree criminal abuse, and other charges in connection to the death of 70-year old Anthony Gilstrap, Sr.
Harrison and her attorneys, Stephanie Ritchie-Mize of Clarksville and Doug Moore, along with Commonwealth's Attorney Rick Boling appeared before Judge Andrew Self.
Ritchie-Mize argued the motion she filed to modify or reduce the bond for Harrison. She said that Harrison had never been in trouble before except for she believes an animal cruelty case that was diverted and then dismissed after a year. She said they had a witness who would testify that Harrison did not have control in this situation but the victim's son, Jacob Gilstrap, was in control.
In addition, Ritchie-Mize stated Harrison is not even listed as a perpetrator or an abuser on the reports from Adult Protective Services — she is simply the girlfriend of the son who lived in the camper with his father. She added there was nothing to insinuate that Harrison knew what was going on until the end when she tried to get help. She also noted that her client is not a flight risk or a danger to the community.
Boling argued that the Commonwealth's position was Harrison was not just a bystander in this situation, she knew what was going on.
Judge Self then heard from two witnesses, a friend who lived a few hundred yards from Harrison and an Oak Grove Police officer who Ritchie-Mize said testified at the preliminary hearing there was no evidence that Harrison had been in the camper.After hearing from the witnesses and determining that if Harrison was released she would be returning to her home in Oak Grove, Judge Self ruled to release her on home incarceration.
Judge Self set another hearing for January 25 at 1:00 p.m.In addition to the murder and criminal abuse offenses, Harrison and Gilstrap were also charged with knowing abuse or neglect of an adult, knowingly exploiting an adult by a person over $300, and eight counts of second-degree cruelty to animals.
The couple were charged after an investigation by Oak Grove Police that began when Anthony Gilstrap, Sr. had been taken to the hospital on July 10th and was reportedly unresponsive with signs of severe neglect, gangrene, sepsis, an open wound with bones exposed, and pressure ulcers. He died a month later.
According to police, Gilstrap and Harrison also put themselves as power of attorney over the man's banking account and removed money from his account, as well as started a life insurance policy for him.
Harrison and Gilstrap have remained lodged in the Christian County Jail since their arrest with each being held on a cash bond around $502,000.
Gilstrap is scheduled to return to court on December 19 for a pre-trial conference.