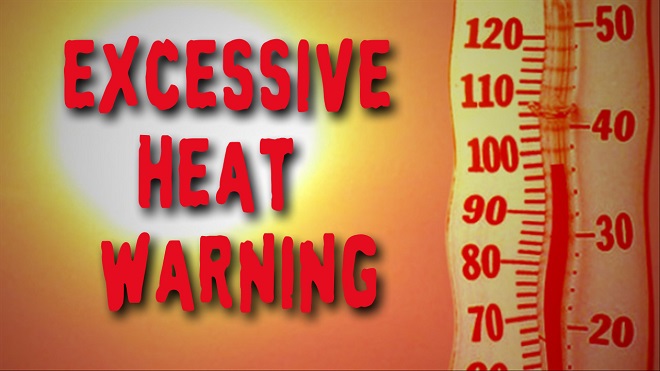 Another hot day is expected for our Wednesday with strong sunshine. Dangerous heat continues for today, with air temperatures in the upper 90s, and heat index values up to 110°F. An Excessive Heat Warning is in effect for all of western Kentucky along and west of I-65. As the ridge of high pressure begins to breakdown, the pattern will begin to change as we reach late week. This will allow a front to move south across the area late Thursday into early Friday. There is still a chance of showers as the front moves through the region, but dry conditions will help limit rainfall chances. We get a brief break from the heat over the weekend, but the rebound next week looks rough with very hot conditions returning.
Highs will "only" be around 90 on Saturday with a degree or two increase on Sunday. But Monday and Tuesday will be very hot with several locations reaching 100 on Tuesday. Conditions are expected to remain dry. The 8-14 day outlook is for below normal rainfall, so the ground will continue to dry out. Now…one thing that could break the heat pattern is to have a storm form in the Gulf. There is hope since a small area of low pressure has formed in the far southwestern Caribbean Sea, accompanied by disorganized showers and thunderstorms. Further development of this system is possible while it drifts northwestward near the coasts of Nicaragua and Honduras, and it could become a tropical depression later this week if the disturbance remains over water.
A Thought: Sometimes you cry, even when someone you love has been gone a long time. I am sick of not being able to smile anymore. I can't seem to remember how to truly laugh. I am sick of the injustice and the strife in this world. I am sick of feeling like I am the only person left on the planet that feels this way. I am sick of trying to speak to those who can't see and won't listen…Yet, over the past week I have met Facebook friends who feel exactly like me. The thing is, you would be surprised who's watching your journey…your struggles in life and be inspired by it. I say to those friends that there is a reason behind every struggle. Don't ever quit. Perhaps tomorrow will be better for us all…and God loves us.