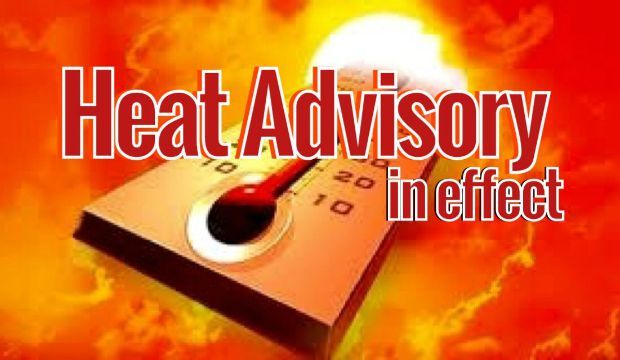 The heatwave has arrived as we begin the new week. A rare and dangerous combination of heat and humidity looks to occur on Monday. Strong sun combined with high humidity will allow temperatures to rocket into the upper 90s to around 100 degrees. The worst conditions are expected in the afternoon when the entire region will see heat index values of 105 to 115 degrees. A Heat Advisory is in effect for the entire region from late morning Monday through Wednesday afternoon.
The extreme heat will begin to temper somewhat from midweek onward. Finally, by late in the week, a cold front will trim back the heat and bring some relief to portions of the region as we go into the weekend. But it won't last since we heat up again next week. This is dangerous heat and everyone must take precautions. Drink plenty of fluids, stay in an air-conditioned room, stay out of the sun, and check up on relatives and neighbors. Young children and pets should never be left unattended in vehicles under any circumstances. Take extra precautions if you work or spend time outside.

A Thought: You know…it takes God's grace to remain kind in cruel situations. It is out beyond the edges of my life's path where living really starts. So I will forget about life's road map and follow my heart at any cost. And even if I stumble, I'm still moving forward. I think it was Shakespeare who once said: I cried when I had no shoes, but stopped crying when I saw a man without legs. It means that life is full of blessings but many times we don't see it. Sometimes there is sadness in our journey, but if you look hard, you can also find beauty. So whether it is a good day, or a bad day….every day, you will find me here still trying.