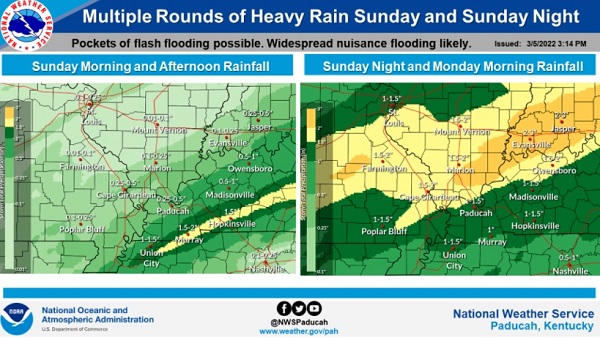 The National Weather Service in Paducah has issued a Flash Flood Watch from 6:00 Sunday morning to 9:00 Sunday evening for the counties of Caldwell, Calloway, Christian, Graves, Hopkins, Lyon, Marshall, Muhlenberg, Todd and Trigg.
The first wave of showers and thunderstorms are expected to move across the quad-state region tonight into Sunday. The shower and thunderstorm activity is expected to continue throughout the day on Sunday over southern portions of west Kentucky, generating areas of excessive rainfall capable of producing one to three inches of rain over a short period of time. This will likely lead to isolated flash flooding especially from late morning into the early evening hours across the watch area. The excessive runoff may result in flooding of rivers, creeks, streams, and other low-lying and flood-prone locations.
You should monitor later forecasts and be prepared to take action should Flash Flood Warnings be issued.