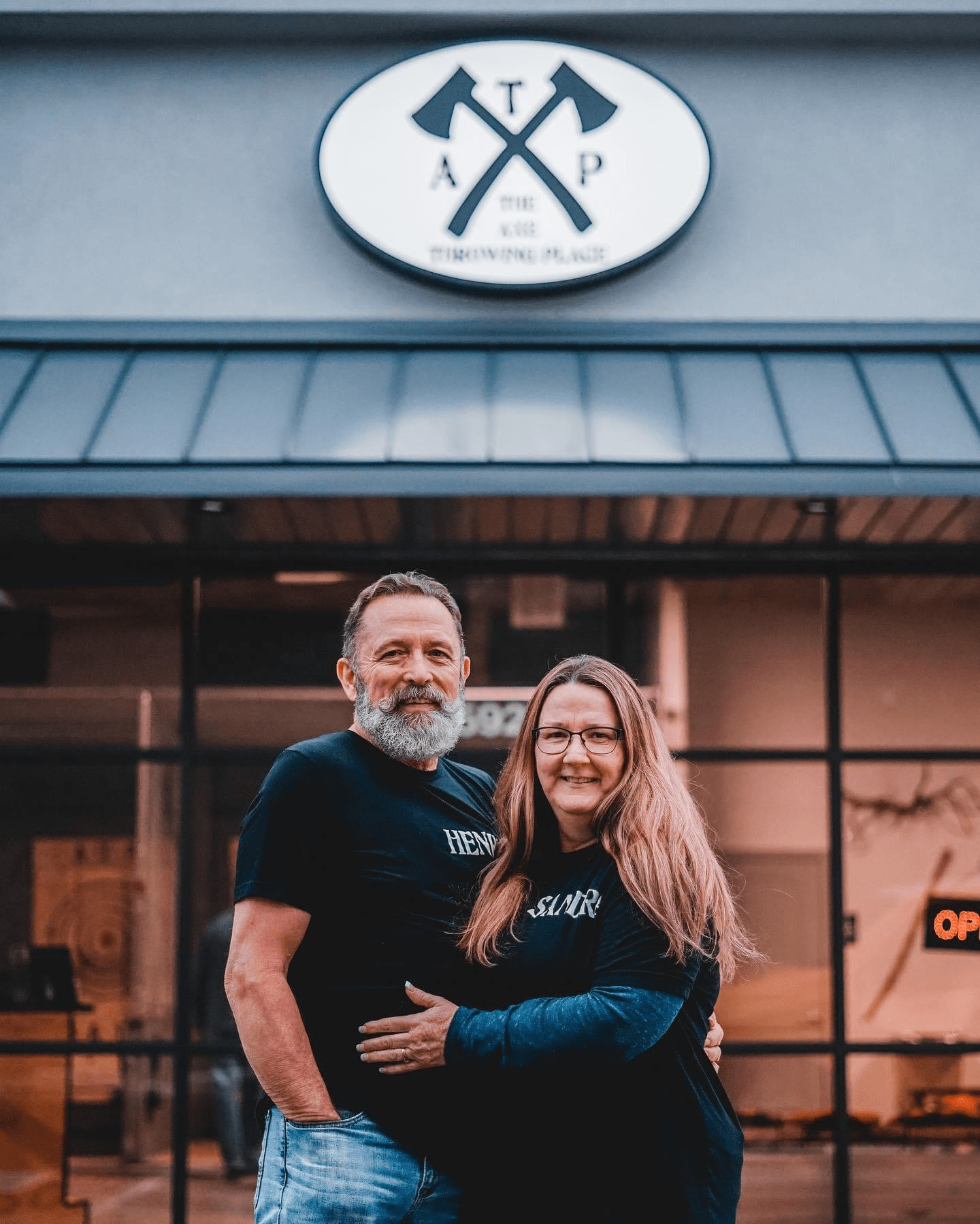 A Clarksville business recently celebrated being open for a year and did it during a global pandemic.
Henry and Sandra Walker, owners of the Axe Throwing Place, said when they set out to start a dream of opening a local business, they didn't foresee the COVID-19 pandemic. The business opened on October 19, 2019, with the former Hopkinsville residents moving to Clarksville to pursue the idea planted back in 2017.
The dream began when the couple traveled to Nashville for their 27th wedding anniversary. On that night, they went out for a nice dinner and went to an axe throwing venue. During that trip, both realized how much of a passion they had not for just throwing axes but the social aspect of the business too. A year later, the Walker's took their son Noah back to the same axe throwing venue in Nashville. Like his parents, Noah immediately fell in love with the idea of possibly opening an axe throwing venue.
The seed really began to really grow when the Walker's spent family Christmas with their sons, Noah and Alex, in Norfolk, Virginia. The day after Christmas, the Walker's once again found themselves throwing axes at a local venue. After meeting the owners, the Walker's had a sense of what the business is truly like, and they began to toss around business names. The Axe Throwing Place was first to come to mind and immediately stuck, because what better way to be found on social media, Google, or any other search engine?
On October 19th, 2019, The Axe Throwing Place officially opened. Despite a global pandemic stacking the odds against local businesses for two-thirds of their first year, Henry, Sandra, and their team at The Axe Throwing Place made it.
"Being prudent, we were thrifty. We didn't pay ourselves at all," Sandra said. "We were putting our money in the bank and focus on learning as new business owners. Our PPP came the day after we wrote our last check and kept us above water until we re-opened on May 9th."
Time flew by, and before they knew it, The Walker's were celebrating their first year of business with The Axe Throwing Place.
"It's amazing what we've done in the first year of being here, yet there's still so much I want to do," Henry said. "I'm extremely satisfied. We were able to expand more than 800 square feet within the first year by conjoining the unit next door. Once I retire from Ft. Campbell, there's no telling what we'll come up with."
For the last nine months, Henry has also led a bible study at The Axe Throwing Place. Be Men of Clarksville meets every Saturday at 9 to eat breakfast, drink coffee, throw axes, and study the Bible.
"Anyone is welcome to come," Henry said. "We're a spot where people can reboot and recover, find out what it's like to be a dad, what it's like to be a friend. We just want you to know we love you, care about you, and come enjoy yourself."
Henry also opened up about who he was before ATP opened. "I was Henry Walker, retired US Navy, looking to retire again and have a cup of coffee on my back porch. I was ready to go fishing when I want to, hunt when I want to, golf when I want to."
The Walker's both expressed how much they enjoy others having a fun experience when visiting ATP.
"We have the most fun when we are able to teach them how to throw. We make sure they know how to throw axes, then introduce the competitive side of axe throwing," Sandra said.
Henry added that his sole expectation is for everyone that comes through their door to have fun. "Our top goal is to ensure everyone has a quality experience that they'll want to tell their friends about as well as come back and do it again."
When asked about their future, Henry said you'll probably be able to catch him in the backroom sleeping. But in terms of three to five years, the Walker's agreed that the sky is truly the limit.
"I'm actually looking and exploring the idea of a possible franchise. We've had a few inquiries, and it's something we're certainly going to explore," Henry said. The Walker's made it through their first year of business in large part due to efficient financial decisions and faith in each other. But their main focus still remains connecting with people in the community and giving people a safe place.
"I would've never thought in my entire life that I'd own my own business. I've always dreamed of it, but never thought the day would come," Henry said.
"We're enjoying ourselves at a time in this world where everyone could use a bit more fun. And we want people to know they can find that here. We want people to know that they can come here and trust that this is their safe place."