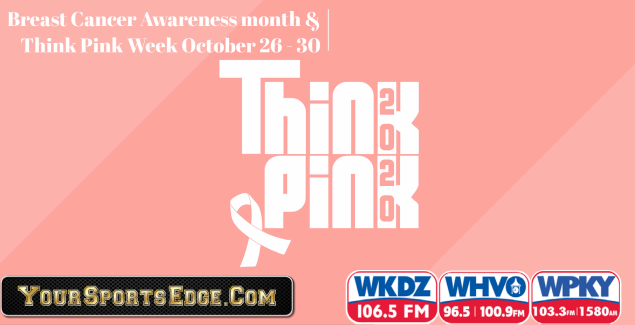 October is Breast Cancer Awareness month and we at The Edge Media Group want to join with you to show support all month!  Show us your PINK and how you support those fighting cancer, remember those we've lost and educate others on the importance of early detection. Share your picture with us on our Facebook pages or email us with your individual or workplace pictures of how you THINK PINK! Use the hashtag #THINKPINK2020 for all to see.
Don't put off your regular screenings! If you had to cancel earlier this year or haven't made your appointment yet, we encourage you to do that TODAY.
MARK YOUR CALENDARS!
We will end the month with a Think Pink Week 2020, October 26th-30th. Be listening for conversations each day focusing on research, support, encouragement and resources throughout our communities.
If you would like to pre-order a Think Pink Week shirt, you can do so now at our Big Deals Page! You can also make a donation while you are visiting the site.  You can even make a donation toward shirts for those that may not be able to purchase one.
All proceeds this year will go to the Pink Ribbon Network which supports those fighting breast cancer throughout our communities.
THANK YOU TO OUR SPONSORS!