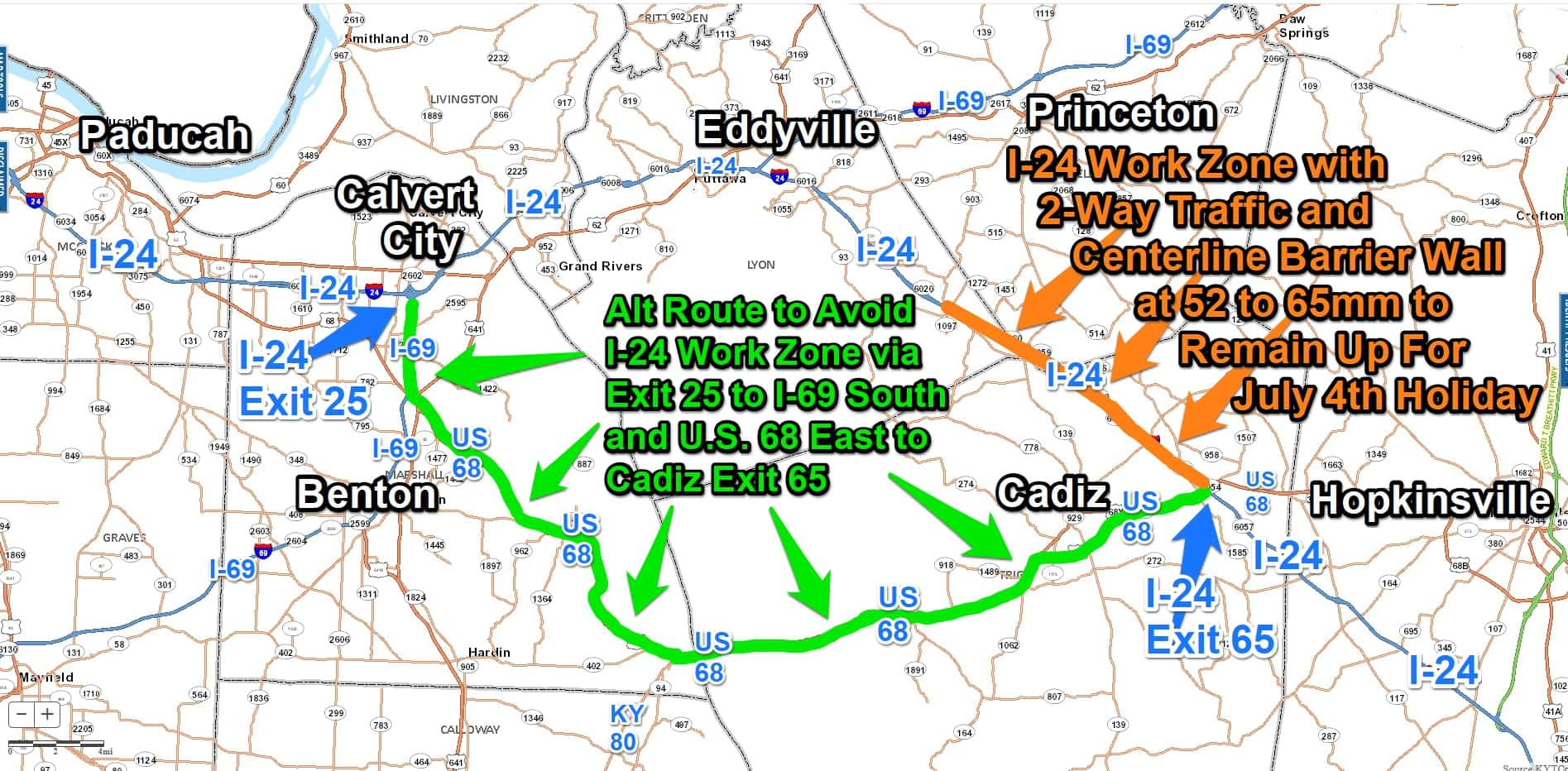 The Kentucky Transportation Cabinet is alerting holiday travelers that an extended work zone along Interstate 24 in Lyon, Caldwell, and Trigg counties will remain up over the Fourth of July holiday weekend and high holiday traffic volume has the potential to create travel delays.
Spokesman Keith Todd says there will be no construction activity in this work zone over the weekend, however, lane restrictions along I-24 from the 52 to 65 mile marker will remain up during the weekend and throughout the remainder of summer. He adds this extended work zone includes 13 miles of two-way traffic running on the westbound lanes with a centerline barrier wall and an additional 4 miles of lane restrictions with traffic barrels.
Todd is encouraging local travelers to consider a self-detour via an alternate route to help reduce traffic congestion in this extended work zone. The alternate route for eastbound traffic takes I-69 South to the US 68 Draffenville exit 47 interchange, then along US 68 East through Land Between The Lakes to return to I-24 at the Cadiz exit 65 interchange. Todd states the alternate route adds about 8 minutes of travel time but will allow motorists to avoid the potential for backups and delays along I-24.
Todd is also reminding truckers that the westbound work zone includes a maximum 15 foot load width restriction due to the use of the centerline barrier wall, while the eastbound lanes have a 12 foot maximum load width restriction. The work zone also includes a strictly-enforced 55 mile per hour speed limit with an enhanced enforcement presence.
The extended work zone is in place to facilitate major rehabilitation work along the eastbound lanes of I-24 from the 51 to 65 mile marker, as well as spot concrete repairs from the 64 to 69 mile marker, with a target completion date of November 30th.