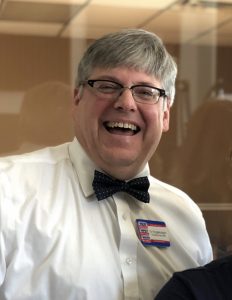 I was born in St Petersburg, Florida and raised in Princeton, Ky.  I caught the radio bug in 1984 working for WPKY Princeton while in high school. after graduating, I attended Murray State University graduating with a BS in Advertising with a minor in Organizational Communication.  I worked for several radio stations while in college: WCBL in Benton, WWLK in Eddyville, and WPKY Princeton.
I worked in banking for almost 20 years until recently whenvI had the opportunity to work for ham broadcasting!  To say the LEAST, I'm in "hog" heaven! my passion is TO HELP BUSINESSES GROW with Radio and Digital Media!  I also still get to play on the radio as being part of the Tess and Ty morning show on WPKY Princeton!
I'm married to Molly and enjoy the outdoors, amateur radio, and playing string instruments.  I have two cats, two dogs and two great kids, Mac and Emerson.  I'm blessed beyond measure and privileged to be working with true professionals at Ham Broadcasting!